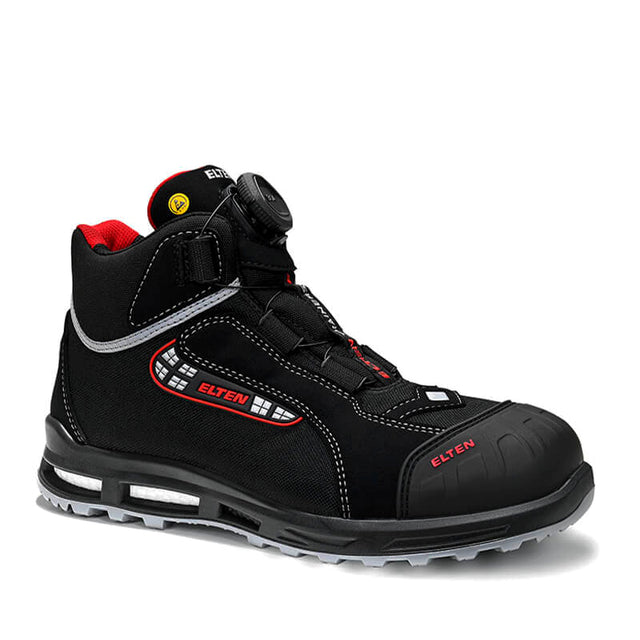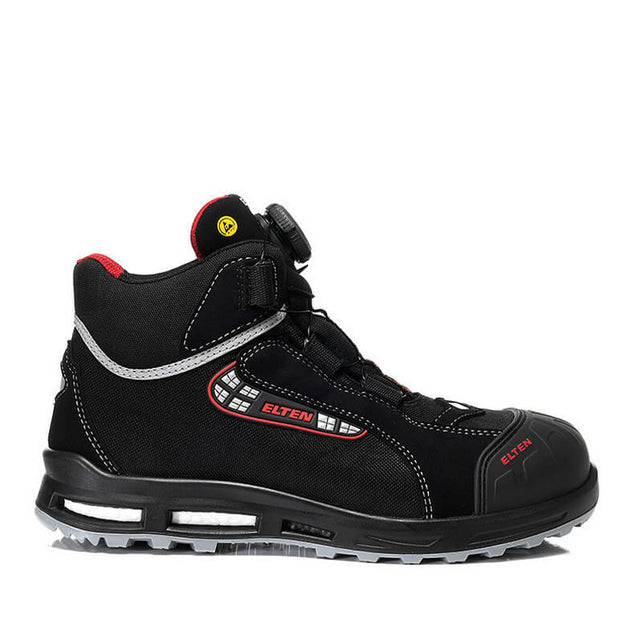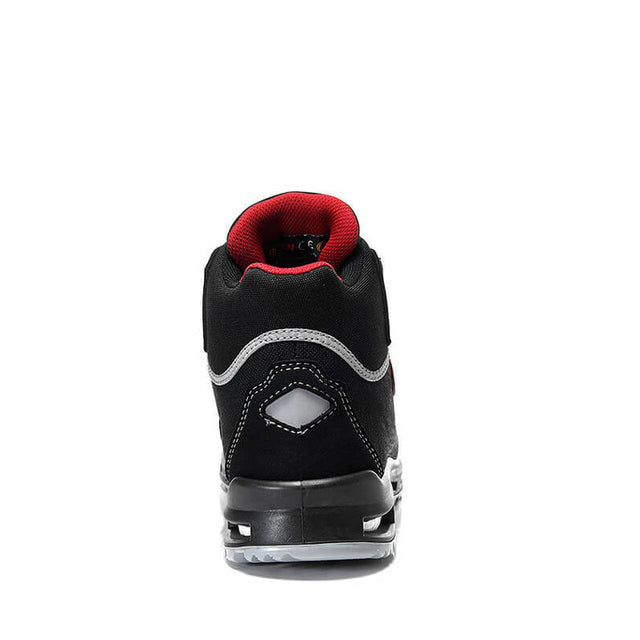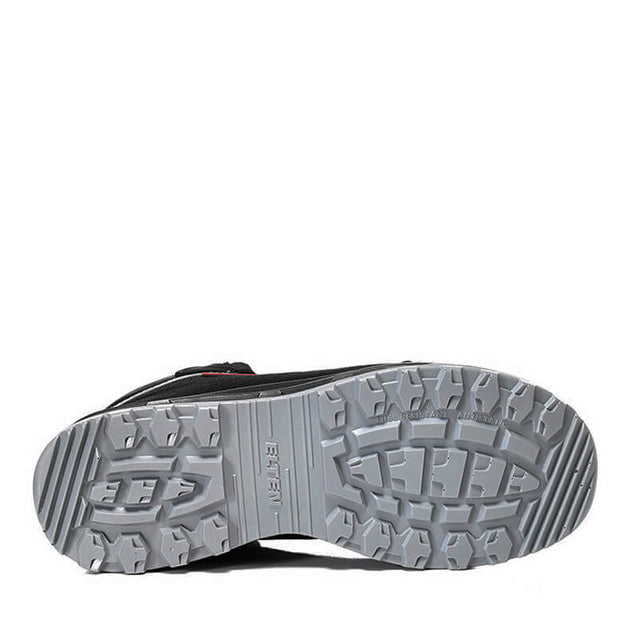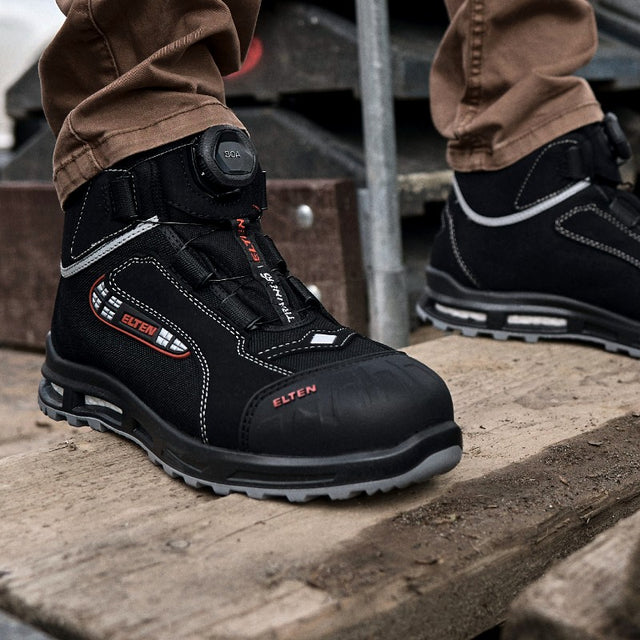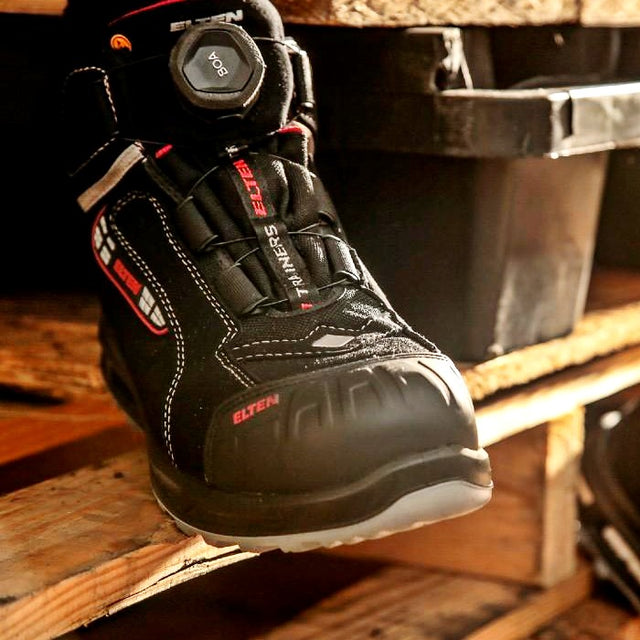 SANDER BOA Work Boot (Lightweight) CORDURA
A feeling you would not expect in a safety boot!
Exceptionally Durable Composite Cap Boot | Lightweight & long-lasting CORDURA Upper.


FREE Returns & Exchanges | $9.95AU Wide Shipping
Comfort Features
Airport-friendly composite toe cap work boot - does not engage with an airport security scanner.
Minimising foot fatigue | assisting with recovery from plantar fasciitis, bunions & heel spur
Precision Fit Guaranteed With Boa Fit System | Achieve a fast, precise fit easily. Ties up with one turn releases with one click. Learn More about the BOA system
Soft Fleece ESD Insole | Flexible, impact reducing & quick drying + abrasion & bacteria resistant.
Extremely Lightweight Safety Boot - weighs less than conventional steel caps | Built with the latest lightweight yet shape-retaining materials.
Supreme Comfort Work Boot | Minimise daily strain with WELLMAXX technology; excellent for those on their feet all day.
Tech & Design Features
Safety Features
S3 Rated Safety Boot - Certified Protection - Waterproof Safety Cap Work Boots - For areas where there is a risk of penetration from pointed and sharp objects.
Certified Slip-Resistance SRC | The double-density sole reduces the risk of falls and prevents slipping on wet surfaces.
Compliant Safety Toe Protection | Lightweight composite toe resistant to 200 Joules of pressure, 15KN of impact.
Reflective Materials Inserts | Increase your workplace visibility day or night.
Longevity & Quality Features
Scuff Cap | Bump Cap, Protects common damage in the toe area, extending the lifespan of the work boot
Temperature Resistant Sole | Heat resistant at up to 130°C & remains flexible at -30°C.
Cordura® - high tensile strength fibres withstanding long-term wear. Highly abrasive and extremely water-repellent fabric.
PU/PU Sole WELLMAXX TRAINERS
Penetration Resistant Midsole - Lightweight, non-metallic, airport-friendly Kevlar
Safety Boot certified for orthopaedic inserts (DGUV 112-191)
Sustainability Features
Vegan-Friendly Work Boot - Non-leather / Leather-Free Safety Boot
EN ISO 14001:2015 Environmental Management Accredited Safety Footwear Manufacturer
EN ISO 9001:2015 Quality Management Accredited Safety Footwear Manufacturer
Technical Data Sheet
Shipping
Shipping & Fulfillment When Ordering Safety Footwear With Stitchkraft

We Ship To Australia And New Zealand
Australia - Standard Post: $9.95AU per order (inclusive of GST) for any number of items. Express Post: $14.95AU per order (inclusive of GST) for any number of items.

Shipping times AU: Standard Post: 5-10 working days, Express Post: 1-4 working days

New Zealand - Flat rate $40 per order (inclusive of GST) for any number of items. Usually 6-14 days delivery time

Express & Courier Delivery Options
For time critical work boot or safety shoe orders we can engage with express courier services such as TNT/FedEx and Toll.

Please contact our local customer service desk in Melbourne directly on 03 6161 3933 to discuss your requirements or visit our FAQ page. More info on our Shipping Page.
Safety - Nothing is more important to us
Work Boot Safety - Australian Footwear Standards Explained
All of our safety boots & work shoes are compliant & certified with the relevant international safety standard DIN EN ISO 20344:2013 / DIN EN ISO 20345:2012.

While functionality, durability, style and comfort are all characteristics of our outstanding safety footwear, the paramount feature and fundamental requirement of what we deliver every day to our clients is safety.

More info on our Safety Page
Returns Policy
We accept exchanges and refunds on all our awesome products bought on stitchkraft.com.au, except discounted items!

Our policy lasts 60 days. If 60 days have gone by since your purchase, unfortunately we can't offer you a refund or exchange.

The item(s) must be in original condition (showing no signs of wear), with all tags remaining in place, original packaging and labels.

Returned items must also be sent with the relevant Stitchkraft.co invoice as proof of purchase.

More info on our Returns Policy Page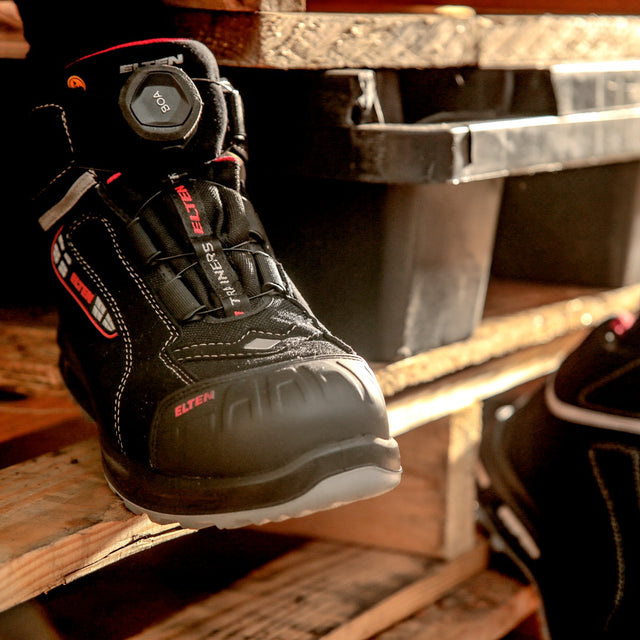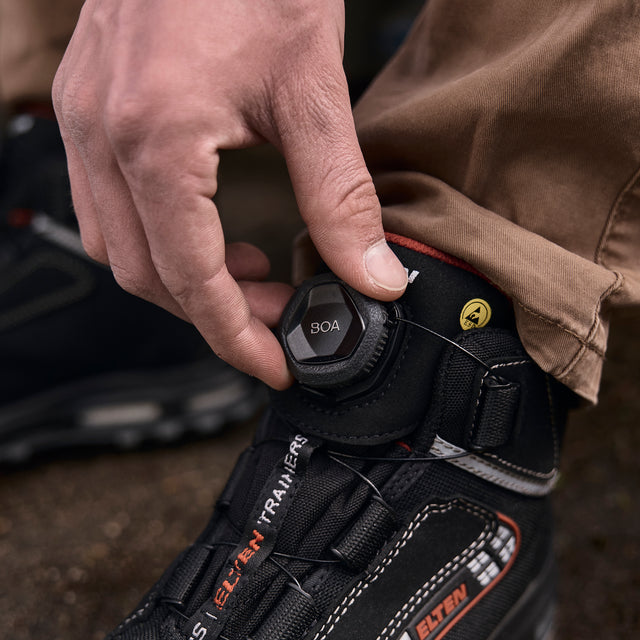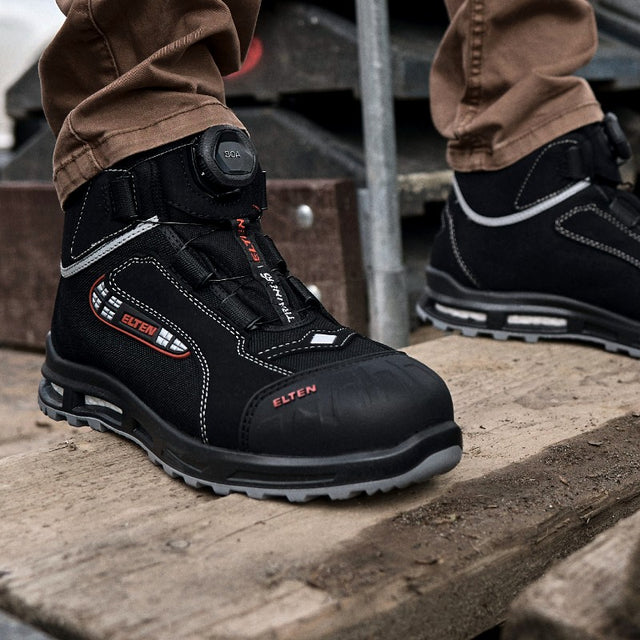 Frequently asked questions
Why is the ELTEN Sander Boa such a lightweight work boot? What is the upper made from?
The ELTEN Sander Boa composite toe boot is one of our most lightweight safety shoes in our range. Despite of it's robustness, the upper material used (CORDURA) is significantly lighter than leather upper in work boots.
What does CORDURA mean and why is it a good material for work boots?
CORDURA is a high-tech fabric made of nylon fibres with an air texture that withstands the toughest requirements in use which makes it a great material for a work boot or shoe. It is an extremely robust, breathable and at the same time light material, which is perfectly suited for work boot models like the ELTEN Sander Boa.
Is the ELTEN Sander Boa a light work boot because of the composite toe cap?
While a composite toe cap is lighter than a steel toe cap in the same shoe or boot size, there are more components to a safety shoe (such as upper, scuff or bump cap, insole material, boot height, sole core and outer sole) that determine its ultimate weight.
Is the ELTEN Sander Boa suitable for welding?
No. Given the fabric upper, the ELTEN Sander Boa work boot is not suitable for any professions requiring welding (high amounts or impact of spatter) or boiler maker trades people.
Is the BOA lacing system on the Sander Boa easy to operate and is it better than conventional shoe laces or on side zip work boots?
Compared to standard laces or a side zip, the BOA lacing system for work boots has one significant advantage - it lasts!

While still a lot of our clients prefer traditional laces in their work boots, the BOA lacing system has significant advantages in work boots and safety shoes over the traditional laces - longevity only being one.
Advanced WELLMAXX inner-sole cushioning, support padding, & ventilation.
Revolutionary Boa Fit System
Enables a precision fit in one turn & instant release with 1 click. Learn More about the BOA system
More info
SANDER BOA Work Boot
So far so good, boot is comfortable, grip on roof is great and no laces is awesome!
Very Happy with my boots
Quality, good looking boots. Nice and light. Impressed with the BOA lace system. Happy with my purchase.
After seeing mine. A work mate is about to get some.
Light Wight
Very comfortable
Great for kneeling and bending
Best boots I ever owned, the quick release laces gives you the convenience of a slip on boot with the feel of a lace up boot. I install kitchens and need to work on my knees a lot when fitting off, these boots allow for toe bend. where with some steel toe boots it was painful to have a toe bend and work in that kneeling position.
"Insanely Perfect: My Work Boot Epiphany"
"Behold, the marvel of my new work boots! They are as light as a feather, yet they wrap my feet in a tender embrace that feels like a snug handshake from the universe itself. These boots defy gravity and logic, making each step a surreal dance of comfort and agility. They fit so perfectly that I suspect they were crafted by shoemaking wizards who channel the whispers of the wind.
Wearing these boots is like wearing a piece of my soul on my feet, as if they were molded from my dreams of the perfect work boots. They are the finest example of footwear engineering that the sane world has ever seen. In fact, they've made me question the sanity of all other footwear choices I've ever made. These boots, my friends, are the key to transcending the mundane and stepping into the realm of extraordinary work boot experiences. In the realm of boots, these are the mad geniuses of the industry, and I am their delighted disciple."