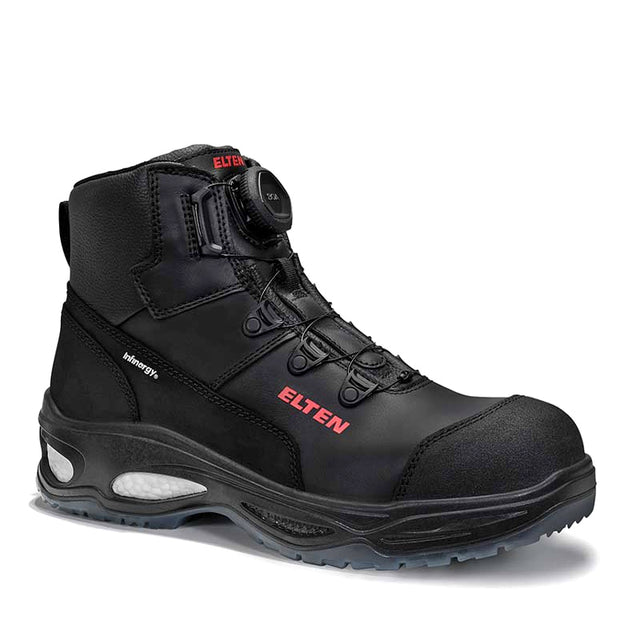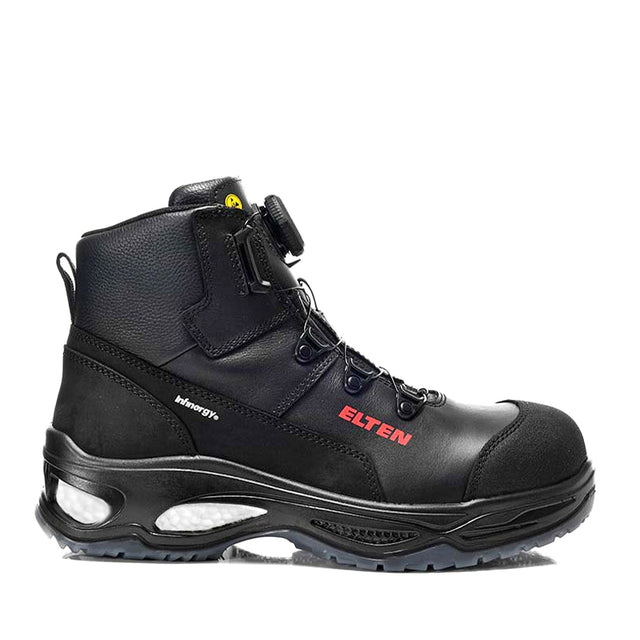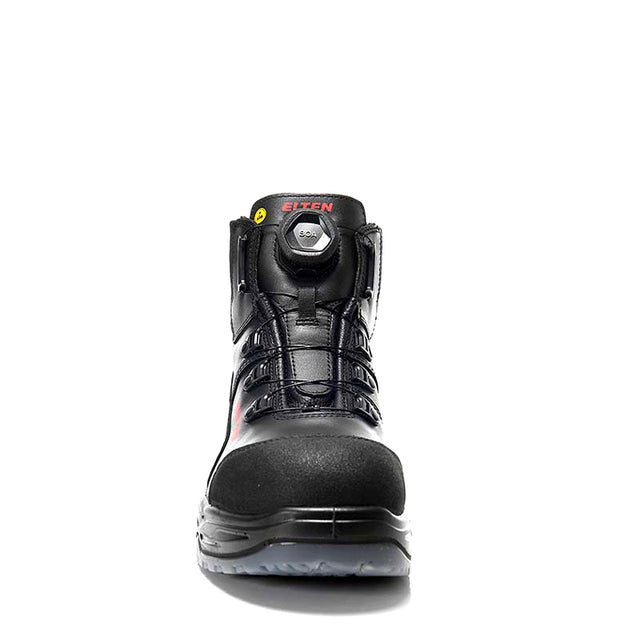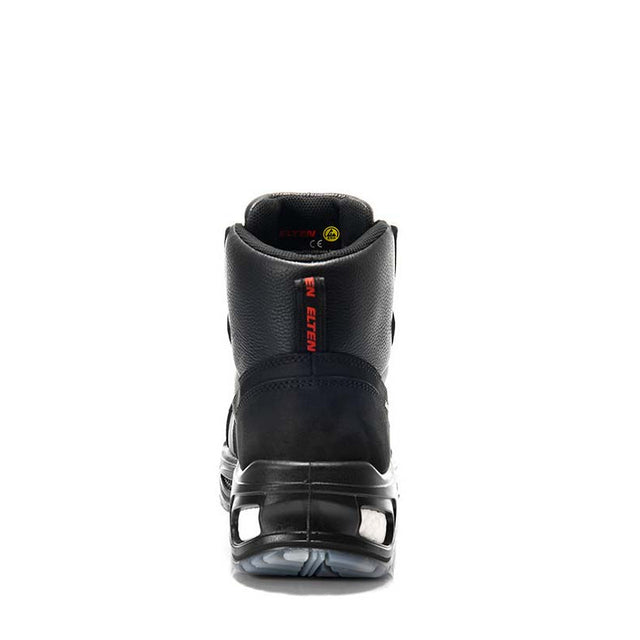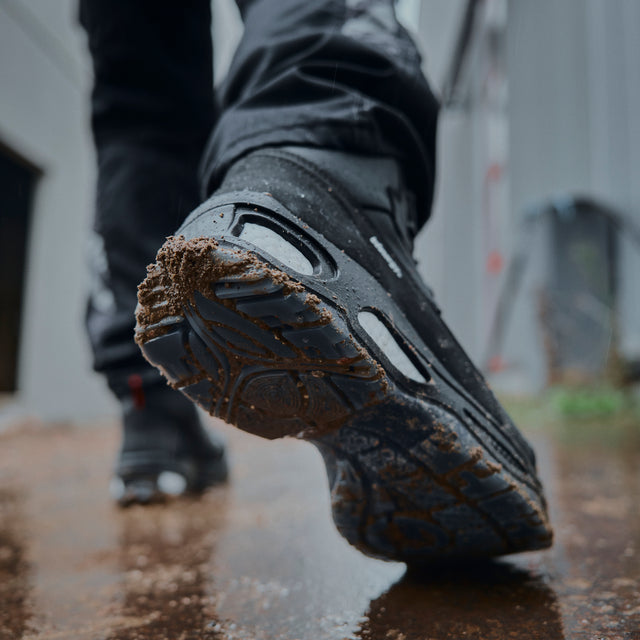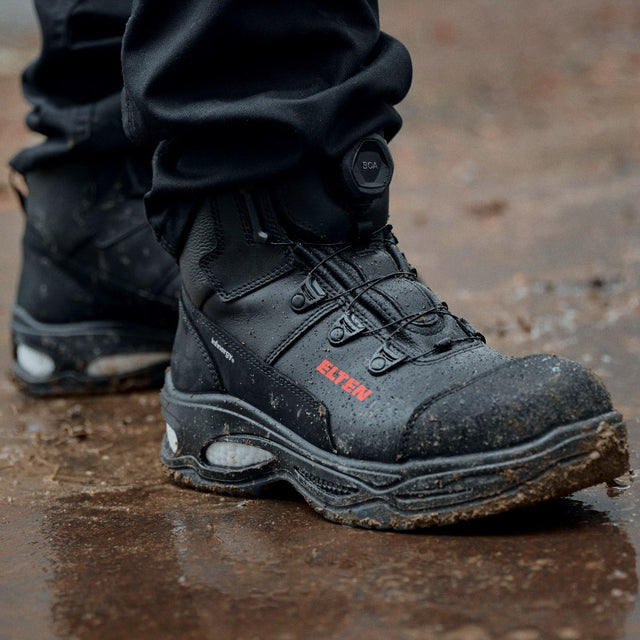 MILES BOA Ankle Work Boot Comfort Insole
Everything you seek in a perfectly comfortable work boot. 
Long lasting genuine leather boot for the tough jobs.
FREE Returns & Exchanges | $9.95AU Wide Shipping
Comfort Features
Exceptionally Long-Lasting Genuine Leather Safety Boot | Wear, tear, water, fuel, sweat & sun resistant, easily retains shape.
Minimising foot fatigue | assisting with recovery from plantar fasciitis, bunions & heel spur
Precision Fit Guaranteed With Boa Fit System | Achieve a fast, precise fit easily. Ties up with one turn, releases with 1 click. Learn More about the BOA system
Soft Fleece ESD Insole | Flexible, impact reducing & quick drying + abrasion & bacteria resistant.
Extremely Lightweight Safety Boot - weighs less than conventional steel caps | Built with the latest lightweight, yet shape-retaining materials.
Supreme Comfort Work Boot | Minimise daily strain with WELLMAXX technology, excellent for those on their feet all day.
Tech & Design Features
Supreme Comfort Work Boot | Minimise daily strain with WELLMAXX technology, excellent for those on their feet all day.
Antistatic Properties | ESD approved inlay sole & lining reducing risk of static shock, charge, or spark.
Supportive Anatomical Foot Bed & Ankle Stability | For extra ankle support & slip-resistant sole for better foot stability & control at work
Infinergy - The Epitome of Heel & Arch Comfort In Work Boots - Made by BASF
Safety Features
S3 Rated Safety Boot - Certified Protection - Waterproof Safety Cap Work Boots - For areas where there is a risk of penetration from pointed and sharp objects
Certified Slip-Resistance SRC | The double density sole reducing the risk of falls and preventing slipping on wet surfaces.
Compliant Safety Toe Protection | Lightweight composite toe resistant to 200 Joules of pressure, 15KN of impact.
Longevity & Quality Features
Scuff Cap | Bump Cap, Protects common damage in the toe area, extending the lifespan of the work boot
Temperature Resistant Sole | Heat resistant at up to 130°C & remains flexible at -30°C.
ROBUST COWHIDE LEATHER | 100% genuine leather tanned in Germany
RUBBER/PU sole WELLMAXX GRIP
Pentetration Resistant Midsole - Steel
Safety Boot certified for orthopaedic inserts (DGUV 112-191)
Sustainability Features
Terracare | Leather Work Boots Made The Sustainable Way
EN ISO 14001:2015 Environmental Management Accredited Safety Footwear Manufacturer
EN ISO 9001:2015 Quality Management Accredited Safety Footwear Manufactuer
Technical Data Sheet
Shipping
Shipping & Fulfillment When Ordering Safety Footwear With Stitchkraft

We Ship To Australia And New Zealand

Australia - Standard Post: $9.95AU per order (inclusive of GST) for any number of items. Express Post: $14.95AU per order (inclusive of GST) for any number of items.

Shipping times AU: Standard Post: 5-10 working days, Express Post: 1-4 working days

New Zealand - Flat rate $40 per order (inclusive of GST) for any number of items. Usually 6-14 days delivery time

Express & Courier Delivery Options

For time critical work boot or safety shoe orders we can engage with express courier services such as TNT/FedEx and Toll.

Please contact our local customer service desk in Melbourne directly on 03 6161 3933 to discuss your requirements or visit our FAQ page. More info on our Shipping Page.
Safety - Nothing is more important to us
Work Boot Safety - Australian Footwear Standards Explained

All of our safety boots & work shoes are compliant & certified with the relevant international safety standard DIN EN ISO 20344:2013 / DIN EN ISO 20345:2012.

While functionality, durability, style and comfort are all characteristics of our outstanding safety footwear, the paramount feature and fundamental requirement of what we deliver every day to our clients is safety.

More info on our Safety Page
Returns Policy
We accept exchanges and refunds on all our awesome products bought on stitchkraft.com.au, except discounted items!

Our policy lasts 60 days. If 60 days have gone by since your purchase, unfortunately we can't offer you a refund or exchange.

The item(s) must be in original condition (showing no signs of wear), with all tags remaining in place, original packaging and labels.

Returned items must also be sent with the relevant Stitchkraft.co invoice as proof of purchase.

More info on our Returns Policy Page
Advanced WELLMAXX insole for perfect heel & arch support
Revolutionary Boa Fit System
Enables a precision fit in one turn & instant release with 1 click. Learn More about the BOA system
More info
Excellent!
Still early days, but these are probably the best work boots I've ever had. So comfortable!
Excellent quality footwear
I extensively researched the elten brand and boa lacing system before deciding to make the purchase, I usually buy Thomas Cook rigger boots, but due to change in circumstances have no need for the riggers anymore. Firstly stitchkraft were prompt to answer any questions I had they were polite, professional and courteous with their replies, I added express post to my order and had them in 3 days from Vic to FNQ couldn't been happier with the service I received. The shoes lite compared to what I'm use to wearing day in day out, they honestly one of the most comfortable work boots I've ever worn the soles absorb so much compared to my other work boots, they fit and finish is second to none. I did notice for first few days of wearing them I was adjusting the boa lacing system but after few days everything seems to have settled in fine, the boots don't sweat like my old ones would which is great because at the end of the day with my rigger boots my feet would be saturated all in all I'm very impressed with the Miles boa ankle work boot and will be buying another pair for my son's.
so comfortable
loving these boots I wear them seven days a week and give them sorry comfortable
Great Boot, comfy and sturdy
I have not had them for long yet however i found there was next to no "wear in" time. They are very comfortable, the BOA system is great as an alternative to zipside boots and construction seems very sturdy. Only drawbacks are that i wish it had a little more support for ankles as an "ankle work boot" as i am prone to rolling/spraining ankles and i also wish they where available in stone colour!
Work Boots
I'm on my second pair of boots my first lasted 3 years and I only updated as I've worn through the toe cover on the boot as I'm always working on my knees, if I didn't I wouldn't have needed to update, these boots are so comfy and light to wear, your feet will thank you, do yourself a favor and buy a pair you won't regret it
Frequently asked questions
What applications is the Miles BOA Work Boot used for?
A great all-rounder, the Miles BOA can be used for warehousing through to construction.

For long days on your feet, the ELTEN Miles BOA composite toe boot has the Wellmaxx cushioned insole built into the shoe (the thickest Wellmaxx insole in the ELTEN range), making it super comfy underfoot.

The Elten Miles BOA work boot has a steel midsole therefore particularly recommended when working in areas where there is an increased risk of injuries due to pointed or sharp objects, such as in the construction industry.
Is the ELTEN Miles BOA Work Boot waterproof or water resistant?
The Miles BOA Work Boot comes with a waterproof sole and a premium quality Water Resistant (for up to 3 hours) upper.

To enhance the waterproofness of the leather, we recommend the application of Effax Leather Balm here
What sort of fit is the Elten Miles BOA Work Boot?
In general, the Miles BOA is a standard to wide comfy fit.
How strong is the BOA lacing system on this work boot
BOA lacing for safety boots is super strong as it is made of very thin steel wires (49 strands to be precise).

It has a lifetime warranty and should outlive the rest of the shoe.

Do away with cumbersome traditional laces, instead, the BOA lacing system has significant advantages in work boots and safety shoes over the traditional laces - longevity only being one.

They are also easier to take on and off which is advantageous for applications such as construction where one may need to take their shoes off and on several times throughout the day. Read more
Can I wear these safety boots with my orthopaedic insoles prescribed by my podiatrist?
Yes, the ELTEN Miles BOA Work Boot is certified for orthopaedic modifications and inserts (orthotics).
Is the sole of the Miles BOA Oil and Fuel Resistant?
The WELLMAXX double density comfort sole with profile on the Miles BOA Work Shoe is indeed oil and fuel resistant.