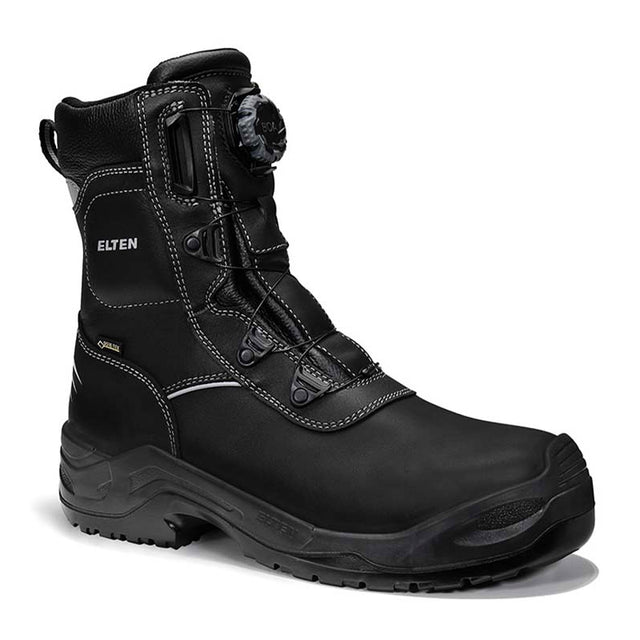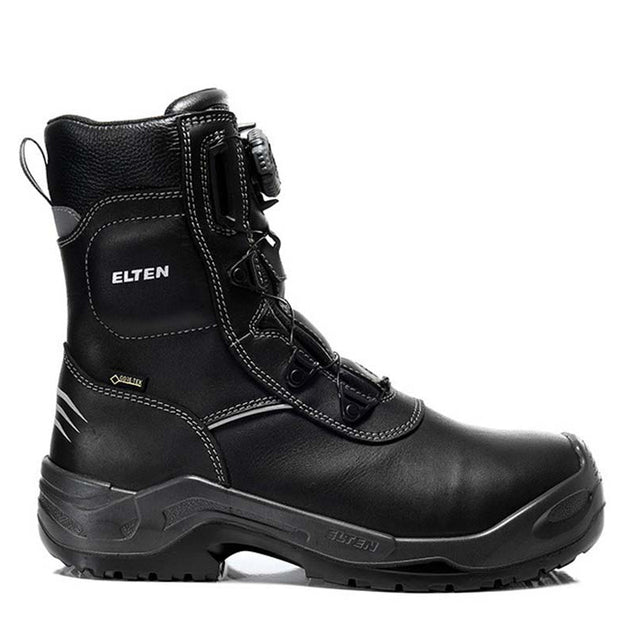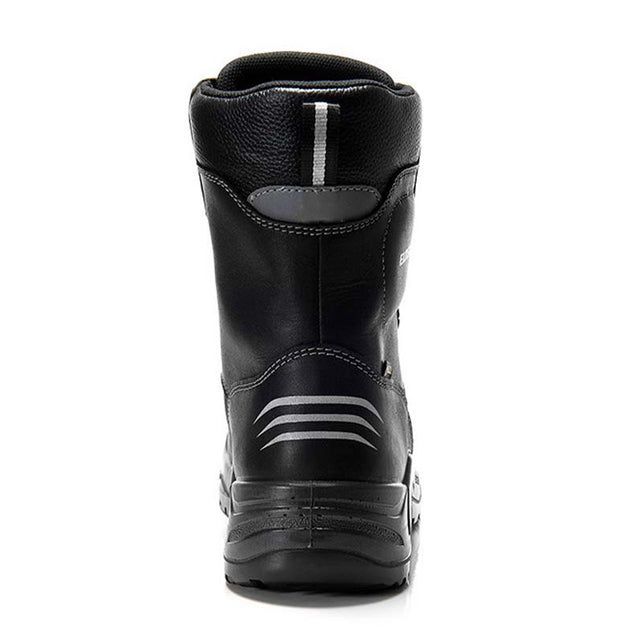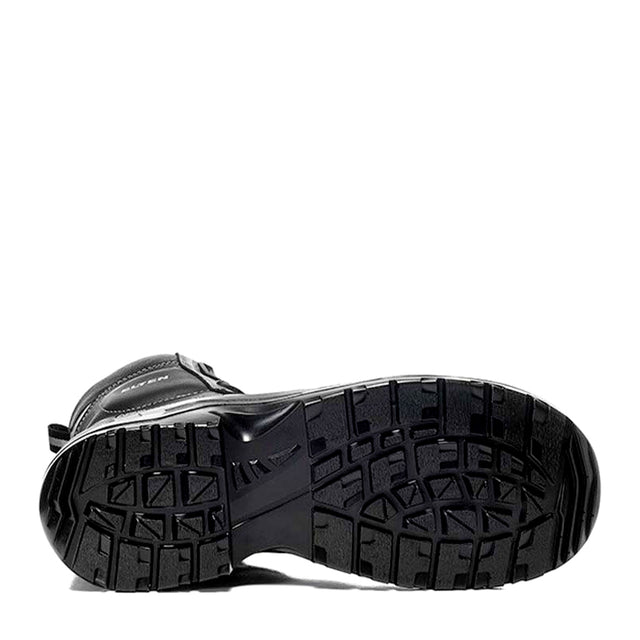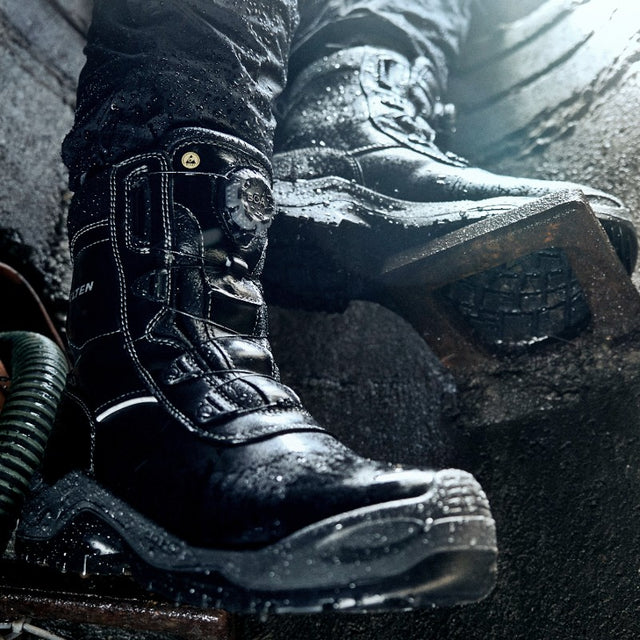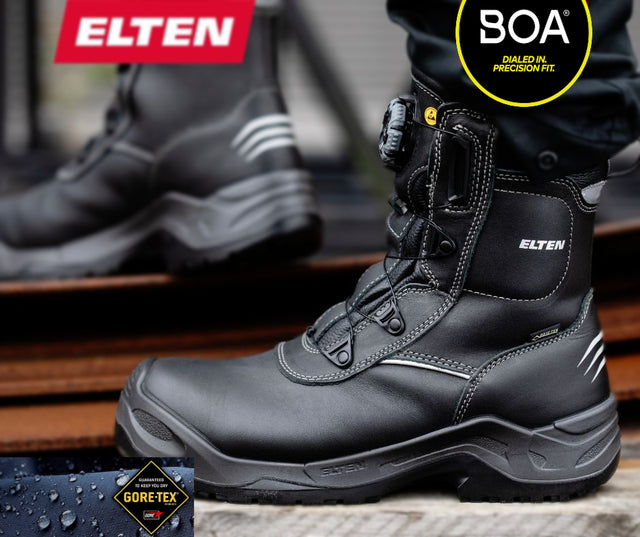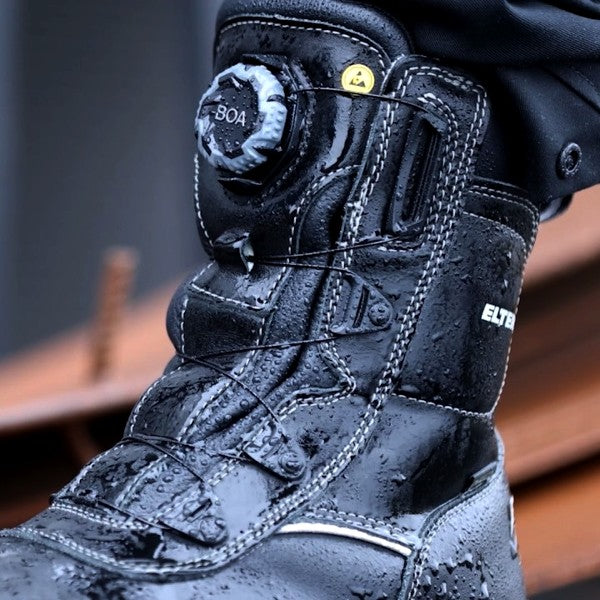 JOSCHI BOA Work Boot Waterproof GoreTex 4E
The Next Level All Weather Gore-Tex Work Boot. Waterproof. Breathable. Made For Tough Jobs.
The Elten Joschi Boa is a high-performing & robust leather safety boot | 100% genuine leather tanned in Germany.


FREE Returns & Exchanges | $9.95AU Wide Shipping
Comfort Features
Exceptionally Long-Lasting Genuine Leather Safety Boot | Wear, tear, water, fuel, sweat & sun resistant, easily retains shape.
Impact Absorption | Double-density sole (slip-resistant) minimizes every impact, making every step softer.
Precision Fit Guaranteed With Boa Fit System | Achieve a fast, precise fit easily. Ties up with one turn and releases with one click. Learn More about the BOA system
Soft Fleece ESD Insole | Flexible, impact reducing & quick drying + abrasion & bacteria resistant.
Breathable & Skin-friendly Fabric Lining | Made with climate-regulating materials that keep your feet ventilated at work 
Comfort insole for arch & heel support ESD PRO black
Tech & Design Features
Supportive Anatomical Foot Bed & Ankle Stability | For extra ankle support & slip-resistant sole for better foot stability & control at work
Antistatic Properties | ESD-approved inlay sole & lining reducing the risk of static shock, charge, or spark.
Wide Fit Safety Boot | 2E Width | The Comfy Fit With Wide Toe Box
Fast Drying | Fast-drying material combined + an open-cell structure ensures an ideal foot climate.
Wide Fit Work Boot | 4E Width | The Comfy Fit With Wide Toe Box
Safety Features
S3 Rated Safety Boot - Certified Protection - Waterproof Safety Cap Work Boots - For areas where there is a risk of penetration from pointed and sharp objects
Certified Slip-Resistance SRC | The double-density sole reduces the risk of falls and prevents slipping on wet surfaces.
Compliant Safety Toe Protection | Aluminium toe cap resistant to 200 Joules of pressure, 15KN of impact.
Reflective Materials Inserts | Increase your workplace visibility day or night.
Longevity & Quality Features
Scuff Cap | Bump Cap, Protects common damage in the toe area, extending the lifespan of the work boot
Temperature Resistant Sole | Heat resistant at up to 130°C & remains flexible at -30°C.
ROBUST COWHIDE LEATHER | 100% genuine leather tanned in Germany
PU/PU tread sole SAFETY-GRIP
Penetration Resistant Midsole - Lightweight, non-metallic, airport-friendly Kevlar
Safety Boot certified for orthopaedic inserts (DGUV 112-191)
Sustainability Features
Terracare | Leather Work Boots Made The Sustainable Way

EN ISO 14001:2015 Environmental Management Accredited Safety Footwear Manufacturer

EN ISO 9001:2015 Quality Management Accredited Safety Footwear Manufactuer
Technical Data Sheet
Shipping
Shipping & Fulfillment When Ordering Safety Footwear With Stitchkraft

We Ship To Australia And New Zealand
Australia - Standard Post: $9.95AU per order (inclusive of GST) for any number of items. Express Post: $14.95AU per order (inclusive of GST) for any number of items.

Shipping times AU: Standard Post: 5-10 working days, Express Post: 1-4 working days

New Zealand - Flat rate $40 per order (inclusive of GST) for any number of items. Usually 6-14 days delivery time

Express & Courier Delivery Options
For time critical work boot or safety shoe orders we can engage with express courier services such as TNT/FedEx and Toll.

Please contact our local customer service desk in Melbourne directly on 03 6161 3933 to discuss your requirements or visit our FAQ page.
More info on our Shipping Page.
Safety - Nothing is more important to us
Work Boot Safety - Australian Footwear Standards Explained
All of our safety boots & work shoes are compliant & certified with the relevant international safety standard DIN EN ISO 20344:2013 / DIN EN ISO 20345:2012.

While functionality, durability, style and comfort are all characteristics of our outstanding safety footwear, the paramount feature and fundamental requirement of what we deliver every day to our clients is safety.

More info on our Safety Page
Returns Policy
We accept exchanges and refunds on all our awesome products bought on stitchkraft.com.au, except discounted items!

Our policy lasts 60 days. If 60 days have gone by since your purchase, unfortunately we can't offer you a refund or exchange.

The item(s) must be in original condition (showing no signs of wear), with all tags remaining in place, original packaging and labels.

Returned items must also be sent with the relevant Stitchkraft.co invoice as proof of purchase.

More info on our Returns Policy Page.
Frequently asked questions
Is the ELTEN Joschi BOA Work Boot waterproof or water resistant?
The Elten Joschi Boa Gore-Tex work boot is rated S3 - which certifies a full waterproof rating as part of the Gore-Tex climate membrane technology. In order to maintain and enhance the water proof capabilities of your boot, apply leather care products regularly. Also make sure you let your boots dry completely after a day in rainy weather.
For which industries, trades or jobs is the ELTEN Joschi BOA work boot suitable?
The ELTEN Joschi Boa steel cap boot is ideal for any though jobs under the weather. Mining, farm work, brick laying - the boot suits any construction type of work or workers requiring tough and durable safety boots that keep feet dry and comfortable in the elements.
What type fit is the Joschi BOA work boot?
The safety boot has a roomy toe box area which makes it suitable for those workers needing a wide fit. These high cut boots are the perfect safety boot for anyone looking for extra workplace protection.
High leg work boots offer better ankle support than traditional mid-cut safety boots, ideal for added everyday comfort around your ankle.
How do I care for my waterproof leather work boots to make them long lasting?
If you are throwing your work boots and yourself against the elements, then it's time to nurture what keeps your feet safe & dry at work.
Applied regularly, Effax Leather Balm extends the "lifespan" of your genuine leather work boot or shoes.
Regular application protects your leather steel caps from the elements and makes the leather upper last longer.
Is the ELTEN Joschi Boa steel toe cap suitable for welding?
Yes, the ELTEN Joschi Boa work boot is suitable for welding.
Welders' spats are recommended and the use of these with our safety footwear support footwear longevity.
How strong is the Boa lacing system on this work boot?
Engineered with ultra-durable materials, the BOA Fit system is extensively tested for the harshest conditions.
While the fast lacing system has been around (tried and tested) since more than 10 years, no conventional lace up work boot is as precise, reliable, or as durable as BOA in work boots. (see here)
Extra wide fit for large feet that offers superior slip resistance & optimum stability for whatever mother nature throws at you.
Revolutionary Boa Fit System
Enables a precision fit in one turn & instant release with 1 click. Learn More about the BOA system
more info
Best boots I've ever owned / worn!
Love, Love. Love 'em! I've worn different styles of boots throughout the years as a Boilermaker as always on my feet! Olivers, Blundstone, Steel Blue, Mongrel, all of them are rubbish compared to an Elten Boot! You get what you pay for they say and I've paid my fair share in boots costing throughout the years but these Elten Boots are THE BEST hands down!
Huge thanks Rach and the folks at Stitchkraft as you have my business for life now! For life! I will never buy another boot unless it's Elten!
Thanks again folks!
Very very comfortable for steel cappers, better than I expected. Super well made as is all German stuff. Definitely recommend. Great fast service too, thank you.
German made what more to say
Leather perfect stitching perfect sole the best turning knob exceptionally creative happy comfortable working boot
10/10 Best boots ive ever owned.
Best boots ive ever owned. Super comfortable and convenient.
I worked in the rain for the last two days and the only things that were dry come knock-off time were my socks and feet. What more could you ask for?
JOSCHI BOA Work Boot Waterproof GoreTex 4E